A little bit of fresh love and drama, what a good recipe for a Romance!
If you don't know what to watch , here you can find our suggestion: four romantic TV Series you should catch up with on Netflix!
Emily in Paris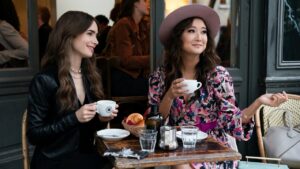 The fresh comedy-drama talks about Emily (played by Lily Collins), a young american girl from Chicago, who moves to Paris for an unexpected job opportunity; indeed, she is tasked with bringing an American point of view to a venerable French marketing firm.
Welcome to Emily in wonder…Paris! She is immediately shot into a new culture, while juggling her career, and love life. 
Fortunately, she meets Mindy (Ashley Park), who works as a nanny and becomes her first friend in Paris; and Gabriel (Lucas Bravo), who is not only her attractive downstairs neighbor, but also the Chef of the restaurant in front of her apartment. 
Will Emily stay in Paris or is she going to move back to Chicago? 
Virgin River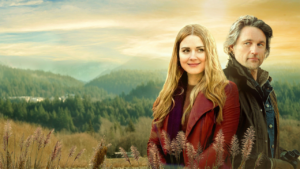 The first season of the show talks about Melinda (played by A. Breckenridge), who moves to the remote California town of Virgin River where she has the chance to start a new life and leave her painful memories behind. She soon discovers that small-town living isn't quite as she expected, and that she has to be patient, before she can truly make Virgin River her new home.
Indeed, a sharp-witted ex-Marine commander, Jack (played by Martin Henderson), is around the corner! After his service was over, he moved to the small town too, in search of a peaceful life.
The two lonely hearts became friends soon; and things changed when Jack built a house for Mel, persuading her not to leave. 
Do you want to know more?! Let's binge-watch the first season as soon as you can! Season 2 will be available on Netflix starting from Nov. 27 !
Sweet Magnolias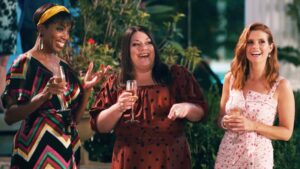 Sweet Magnolias features the first 3 of 11 books from author Sherryl Woods: Stealing Home (Maddie's story), A Slice of Heaven (Dana Sue's story) and Feels Like Family (Helen's story). In the series the story is unfolding at the same time, rather than sequentially as in the books.
The drama told the stories of three South Carolina women, whose friendship last since High School, where they founded their own group of friends called Sweet Magnolias, from which the Series took the name.
Maddie (JoAnna Garcia Swisher), a divorced mother who tries to have her life back; Helen (Heather Headley), a tough lawyer with a great heart and Dana Sue (Brooke Elliott), Chef and owner of Sullivan's.
Chesapeake Shores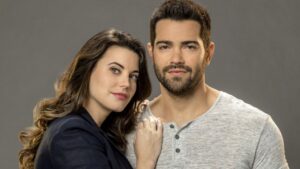 Chesapeake Shores in Maryland is the perfect small, quiet and "in-love" town where you can re-charge your battery, dreaming about a perfect life through the O'Brien's eyes.
Indeed, everything in town goes around O'Brien's Family. Particularly, the series talks about Abby O'Brien-Winters (played by Meghan Ory), a full of energy, divorced mother with a great career, whose life will be twisted by her family and her teenage-love Trace Riley (Jesse Metcalfe), the moment she returns to her hometown.
After years away from her family, she takes a trip to Chesapeake Shores and then she decides to stay and take care of her younger sisters (Bree Elizabeth and Jess) and brothers (Connor and Kevin), who live all together with their father and their grand mother, after have been left from their mom when they were just children. 
Do you want to know if things will work or not between Abby and Trace??? Be ready for season 5 , which should arrive on small screen in summer 2021!