What a leading role for these two young stars ! 
Millie Bobby Brown and Katherine Langford will play the main female character in the new movie Enola Holmes and in the new fantasy series Cursed respectively, both edit by Netflix.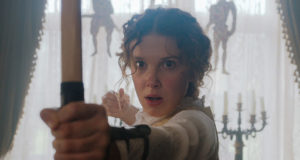 Millie Bobby Brown as Enola Holmes 
The teenager Millie Bobby Brown, better known as Eleven in Stranger Things, is coming back to the small screen in the new movie Enola Holmes; she will play the leading role of Enola, the younger sister of famed literary sleuth Sherlock Holmes.
She will play next to Henry Cavill (The Witcher) and Sam Claflin, who star as her two brothers: Sherlock Holmes (Cavill) and Mycroft (Claflin).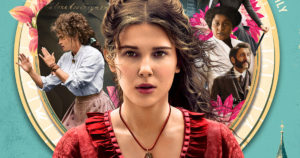 The film is based on the series of books titled The Enola Holmes Mysteries by author Nancy Springer. In the movie the 16 years old Enola escapes through London to find her mom (played by Helena Bonham Carter) who has vanished.
Enola Holmes is scheduled for next September 2020 on Netflix; and it comes from Killing Eve director Harry Bradbeer & His Dark Materials writer Jack Thorne.
Movie Premiere: Sept. 23, 2020.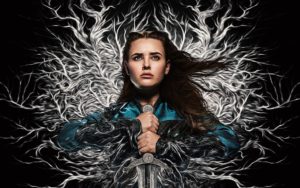 Katherine Langford as Nimue
The 13 Reasons Why star Katherine Langford will be back on Netflix in the new fantasy series Cursed, playing the main female role of Nimue, the Lady of the Lake.
In the 10-episode series Langford will star next to Devon Terrell (Barry), Gustaf Skarsgård (Vikings) and Daniel Sharman (Medici: The Magnificent).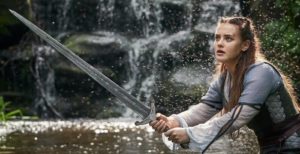 One of the key elements of Arthurian mythology is that King Arthur wields a magic sword called Excalibur. Sometimes he pulls it out of a stone, but most of the time Excalibur is given to him by a woman known as the Lady of the Lake, or Nimue.
Netflix's upcoming fantasy series Cursed, changes up the dynamics of the myth, presenting Nimue as a symbol of courage and rebellion.
Series Premiere: July 17, 2020.
Follow us on Facebook, Instagram and Reddit to be daily updated !