Sweet Magnolias is a new Netflix romance-drama, which features the first 3 of 11 books from author Sherryl Woods: Stealing Home (Maddie's story), A Slice of Heaven (Dana Sue's story) and Feels Like Family (Helen's story). In the series the story is unfolding at the same time, rather than sequentially as in the books.
The drama told the stories of three South Carolina women: JoAnna Garcia Swisher as Maddie, Heather Headley as Helen and Brooke Elliott as Dana Sue. Their friendship last since High School where they founded their own group of friends called Sweet Magnolias, from which the Series took the name.
Watching deeper into the drama, you will find some pills that remind you of Gilmore Girls. Let's go inside the story! 
Friendship
The character played by Brooke Elliott, Dana Sue Sullivan is a Chef and owner of a restaurant called Sullivan's. She reminds us Sookie St. James played by Melissa McCarthy in Gilmore Girls, who worked as Chef at Independence Inn. 
Also, Dana Sue is Maddie and Helen's best friend, like Sookie was for Lorelai (played by Lauren Graham).
Coffee or Margarita?
Maddie, Dana Sue and Helen have their own weekly "Gossip meeting", where they usually drink Margaritas while chatting about life, children, men, job, etc.
In Gilmore Girls, Lorelai and Sookie used to meet in the kitchen: Lorelai normally drank a lot of coffee, while discussing about problems with her best friend.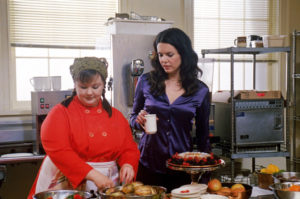 Sookie and Lorelai – Gilmore Girls
Serenity's Trio starts an activity together in town: a women-only "spa" (wellness center);  just like Lorelai and Sookie opened their own Business at the Dragonfly Inn, in Stars Hollow.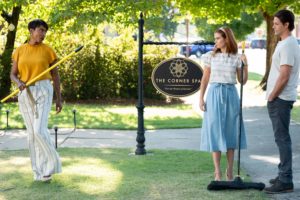 Women-only SPA – Serenity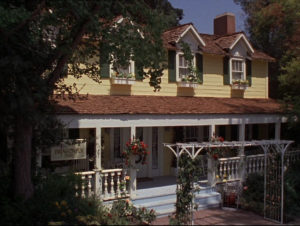 Dragonfly Inn – Stars Hollow 
Love is in the air 
In Sweet Magnolias Maddie starts dating Baseball Coach Cal Maddox (played by Justin Bruening), while in Gilmore Girls Lorelai used to date Prof. Max Medina (played by Scott Cohen) , one of Rory's teacher at Chilton.
It seems that dating the Professor of your children is funny and usual when you are a single mother! Except for your children, indeed neither Lorelai's daughter Rory (Alexis Bledel) nor Maddie's son Tyler (Carson Rowland) are happy about this!
In episode 9 "Where You Find Me" , Dana Sue lays her eyes on an "old man" whom she has to negotiate products' prices with; it seems that cupid is around the corner, like it was for Sookie and Jackson (played by Jackson Douglas), the local farmer whom Sookie got engaged to in Gilmore Girls.